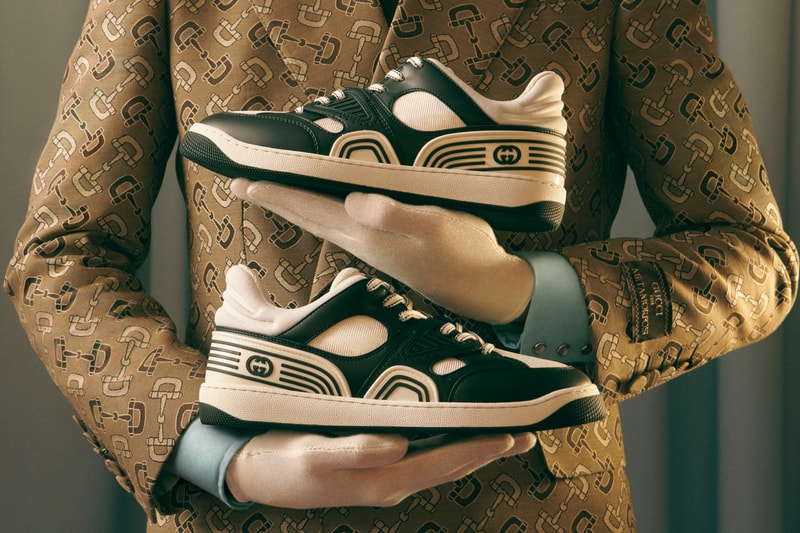 Following its recent foray into redesigning adidas silhouettes, Gucci continues to bring timeless footwear to the forefront with new monochrome iterations of its signature sneakers.
The pared-back footwear collection concentrates on the classic sports shoes that influence the Gucci Basket, Rhyton and Screener models by reverting from its typical bold tones and ostentatious styles. It exemplifies how the Italian fashion house can bring versatility and alternative design to the sneaker scene in its own unique way.
For the court-inspired Gucci Basket, the fashion House drops both a high and low-top silhouette where panels and ridges across the sneaker take on alternating black and white stripes, and tied together with dashed threadwork-lined laces. The characteristically worn-out Screener model also ushers in a new aesthetic as it's constructed with a perforated white leather, plush back overlay and bi-color rubber sole. The Rhyton rounds off the collection, arriving in an all black colorway, as well as black and white version that emphasizes its thick heel.
Connecting the worlds of art and sneakers, Hypebeast taps into the quintessential Gucci stylings to produce a conceptual portfolio of video and images featuring emerging artists as well as columnist Raven Smith – who takes the role of auctioneer – all dressed in the monochrome range. The narrative draws a parallel between the trailblazing creatives and Gucci's reimagination of classics as it shines a light on how they are both breaking down conventions with their alternative approaches.
Interspersed across the traditionally stiff auction room, Navinder Nangla, Elspeth Vince and Shaquille-Aaron Keith represent a new age in the contemporary art scene and star in the new campaign. In an ode to the new collection, they master black and white versions of their past artwork, like Gucci, they strip back and focus on the shapes and lines that form their pieces.
Self-taught artist Nangla most famously found his voice in the scene by tagging the streets during fashion week. His rebellious doodles and creative wordplay signifies that traditional methods are not always required to produce eye-catching masterpieces. "The inspiration behind the piece comes from my mantra: 'Destruction is a form of creation', where I bend the rules and bring out punk spirit," he says. The editorial shows him in Gucci's Screener sneaker that similarly embodies the 'anti' essence of the '70s.
In a contrast to Nangla's free-flowing style, Vince plays on more elusive meanings with her unusual figurative paintings. She notes the way of life, conversations with friends and her own body as influences for her storytelling. Wearing the stacked Rhyton model that also plays with proportions, she explains, "This painting expresses how we interact with memories, using light as a reference point for the future and shadows allowing our memories to live in the past".
Turning the focus onto himself, Keith uses his practice as a form of abstract expression with the featured artwork modeling a self-portrait. "To me, it's very nostalgic because I see my teenage years", he expresses whilst looking down at the painting. With the eclectic artist typically adopting a dark color palette, both in his work as well as his everyday looks, it's Gucci's refined take on the Basket sneaker that provides a fitting go-to footwear option for Keith.
Explore the full editorial in the galleries above. The Gucci monochrome selection is now available to buy on Gucci's website and select boutique destinations across the world.
We are sorry that this post was not useful for you!
Let us improve this post!
Tell us how we can improve this post?