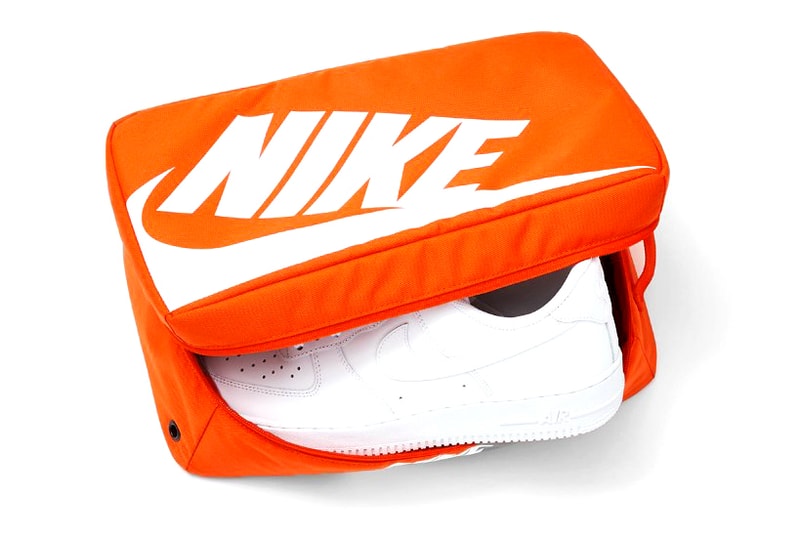 Few things in the world of footwear are more recognizable than Nike Sportswear's Swoosh-emblazoned shoebox, so Nike has opted to turn the prominent packaging into a rectangular bag. Using the exact same colors and embellishments as the box it was inspired by, this bag lets Swoosh lovers transport their kicks — or anything else — in style.
Made from 100% polyester, the reddish-orange bag adds a large white Swoosh-and-wordmark hit on the top plus smaller graphics on its sides. A zipped closure allows easy access to the inner storage compartment, and a single black eyelet ensures ventilation. The most intricate detail arrives via the lower side, which replicates each and every piece of text on the bottom of Nike shoeboxes in identical fashion, ranging from logos to the address of the Swoosh's European headquarters.
JAY-Z likely couldn't have fathomed a container of this nature when he rapped "Shouts to the duffle bag, the brown paper bag, the Nike shoebox for holding all this cash" on 2007's "Roc Boys," but no matter if you're looking to store kicks, cash or something else entirely you can secure the bag for $35 USD via retailers like Foot Locker or atmos.
Need some new kicks to put in this bag? Peep our Best Footwear Drops list to see what's hitting shelves this week.
Click here to view full gallery at HYPEBEAST
We are sorry that this post was not useful for you!
Let us improve this post!
Tell us how we can improve this post?